Happy 2011!
On New Year's Day, my family eats corned beef and cabbage, and black eyed peas. Since I've never made this myself, I decided it would be nice to carry on the tradition.
Now - for those of you who don't know - a black eyed pea is not a pea. Rather, it's a legume - or for the sake of keeping it simple: it's a bean. As you can see from this picture, it gets it name from its prominent black spot. So, why do we eat this on New Year's? It's a very common Southern tradition. But where did it originate?
Eating black eyed peas on New Year's is thought to bring good luck and prosperity for the year ahead. The tradition actually dates back to Babylonian times, when those of the Jewish faith ate the so-called "lucky beans" or rubiya on Rosh Hashanah, accompanied by beets, dates, leeks, and spinach. All of these together were thought to be symbols of good luck.
The practice of eating black-eyed peas in the South was adopted when the first Jews came to the US in the 1730s and settled in Georgia. The meal was then adapted to include greens (collards, turnip, mustard) and ham or some sort of pork dish. The greens symbolized money, and the pig symbolized moving forward, since pigs always move forward when they forage for food (learn something new everyday right?).
Well, I'm not sure why the corned beef got thrown in there. Or the cabbage. Other than the fact that cabbage is green (money) and that corned beef is a pretty cheap cut of meat. Cabbage is about $1 a head, too. The way I've always heard it: cabbage for money, black eyed peas for luck, and corned beef for health. All great things to eat while kicking off a brand new year, right?
That's all for today's history lesson. Now, here's how you make the stuff.
I wasn't sure what to do with the corned beef brisket. Cook in on the stove or in the oven? What about the crock pot? I swear by my slow cooker. It's the most wonderful electronic appliance you can have in your kitchen, especially if you're a busy person. Just throw it all in there, come back 8 hours later and dinner is served! So crock pot it is.
I was up until about 2am on NYE and decided that if I just soaked that brisket in it's seasoning and water and put my crock pot on "warm", that by morning I'd have a pretty tender piece of meat. (my "low" setting cooks a lot faster than you might think". It was mostly cooked when I woke up on NYD, but I wanted it to be tender so I cranked the heat to high and cooked it for about 5 more hours.
Meanwhile, I boiled a ham hock. What? You don't know what a ham hock is? Only the most wonderful, fatty piece of pork ever. It's pretty safe to say that it's the pig's "ankle". (see diagram)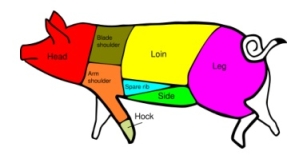 Southern cooks use ham hocks a lot to flavor stews and soups. I love to use them in red beans & rice, and I swear that it just does not taste the same without them. Problem is, they are tough to find, so whenever I see them at the store I buy about 4 of them.
Once the water and my hock came to a boil, I added the black eyed peas which I'd had soaking in water the night before so they could rehydrate. (I used Bayou Magic's brand that comes with a seasoning pack: click
here
to order some, along with some gumbo or jambalaya mix!) I added in the seasoning pack and a chopped onion and just let them simmer for about an hour. Towards the end, I cut the meat off the ham hock and put it back into the pot. (I think whoever gets tons of fatty meat in their bowl is EXTRA lucky - just because it's so delish)
Remember, that brisket is still slow cookin' in the crock pot. So I got going on my cornbread. Because what kind of hearty, Southern meal doesn't have cornbread?
I used a recipe from my new cookbook, Bon Appetit Y'all, by Virginia Willis. And I am happy to share...
Buttermilk Cornbread
2 cups white or yellow corn meal
2 cups buttermilk
1 tsp salt
1 large egg, beaten
2 tbs butter, or bacon grease
Preheat oven to 450 and add butter to baking dish. Let melt in oven 10-15 min.
Mix all of the above together (and if you want to make it even more special, add a can of corn!) and bake for 25 minutes. I also brushed some honey over the top of the bread when it was done. The butter (or bacon grease, if you have it) gives the bread a beautiful golden brown color around the edges and on top.
MMMMMMMMMM.
Now, for the cabbage. Don't hate on the cabbage. I know you're thinking of Charlie and the Chocolate Factory and his poor old grandparents sitting in that one bed together and eating cabbage soup. Stop it. Cabbage is good.
I took some of the liquid out of the crock pot and put it in a pot on the stove. I added chopped onions (large pieces, not finely chopped), half a head of cabbage, quartered red potatoes, and baby carrots. I added some more of the liquid on top and let that simmer until all of the veggies were tender.
We put the brisket into a frying pan to give it a good crust on both sides, and then Jon sliced it up. It was so tender and pretty!
Another family tradition for New Year's = Chinese New Year Candy. I realize that it's not the CHINESE New Year. But it's still the new year. And it's not really chinese except for one ingredient. Lots of people call these haystacks because of their appearance, but I will always call them Chinese New Year Candy. Here's the recipe.
Chinese New Year Candy
1 bag chocolate chips
1 bag butterscotch chips
1 8oz can of salted peanuts
1 can of Chinese chow mein noodles
1. Melt chocolate and butterscotch in a double boiler or in the microwave.
2. Once throughly melted, pour over noodles and peanuts. Mix until coated with chocolate/butterscotch.
3. Cover the bottom of a baking dish with wax paper and drop spoonfuls of the mixture, just like you're making drop cookies.
4. Feel free to lay another sheet of waxed paper over the first layer, and just layer your candies in your baking dish.
I think the salty/sweet combo of these is great!
I'm not so sure what this New Year has in store for me, but I prepare to keep on cookin'. Marc's mom sent him home with dungeness crab, king crab legs, salmon, prawns, and scallops for Jon and me to eat. So prepare to see some seafood creations soon!
Until then....Happy 2011!
~M